INTO THE FUTURE OF BUSINESS TRAVEL

As the new year opens a world of possibilities, UNIGLOBE experts toy with the possibilities with technology in the not so distant future of business travel.
The assertion that the world is becoming a smaller place has never been more apt. Thanks to technology travel the world is becoming more seamless, more connected and more efficient for anyone who travels it. In this article, UNIGLOBE experts explore with you the implications of pervasive technology and hyperconnectivity on your complete journey as a business traveller.
Read more »
---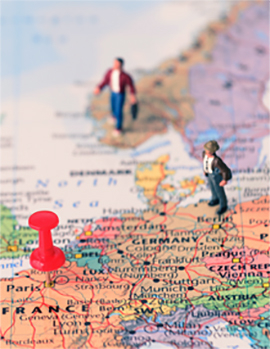 BEYOND THE YEAR OF THE WEEKENDER

Holiday habits are changing and so are trends defining travel. Brace for even more weekends away, quirkier hotels and getting more out of each trip in 2017. Read on as UNIGLOBE experts bring you a compilation of top trends that will set the tone for your travel this year!
Read more »
---
TO RFP OR NOT?

Preparing to roll out an airline RFP or still wondering whether or not to put your flights out to a full airline tender? To help you make the most appropriate choice for your business and its travellers, UNIGLOBE Travel experts nail down the key factors to consider.
Read more »
---
WHEN CARRIER LOSES BAG, INSURANCE PICKS UP SLACK

After an endless wait at the baggage carousel, the steady flow of bags onto the conveyor belt slows to a trickle, then stops. Your bags are nowhere in sight. Sounds familiar? With more than 20 million bags mishandled the world over, you may not always be able to escape from the perils of delayed or lost luggage. However, you can minimise the impact by following this advice from UNIGLOBE experts.
Read more »
---